RadiCare Ventures aims to provide transitional employment opportunities for some of Calgary's most vulnerable residents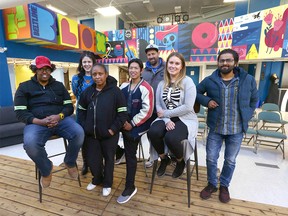 Article content
Describing their approach as "radical dignity," two Calgarians have started a company that hires people experiencing homelessness and chronic employment barriers, providing them the opportunity and skills development to reintegrate into the workforce.
Bill Zheng, a second-year nursing student at the University of Calgary, said he was inspired to start RadiCare Ventures after a 2022 trip to Edmonton to learn about Hiregood — a similar social enterprise that employs people struggling with poverty or addiction to perform property maintenance work.
Article content
"I was able to visit their operation and got super inspired," Zheng said.
Wanting to establish something similar in Calgary, Zheng said he teamed up with Kristen Campbell, a University of Calgary business alumna, and the two incorporated RadiCare Ventures as a company in August.
The startup has since partnered with local social service agencies, including the Mustard Seed, Drop-In Centre and The Alex, to hire some of their clients.
RadiCare Ventures employs nine general staff, Zheng said. After receiving training, the employees can be hired by other organizations to provide property maintenance or janitorial services, including litter pickup, graffiti removal, biowaste disposal, pressure washing and event groundskeeping, among other tasks.
Staff also receive training in proper needle disposal, responding to opioid poisoning, crisis de-escalation and basic first aid, according to RadiCare Ventures' website.
Campbell, who is RadiCare's director of operations, said staff are paid $15.50 an hour, though the goal is to eventually bump that up to a livable wage. She noted she and Zheng are volunteers.
Article content
"(The objective) is offering meaningful economic participation for people who experience employment barriers, to provide entry-level employment, but also give them an opportunity for professional development and self-expression within the company," Zheng said.
Related Stories
Calgarians are less optimistic, while concerned about housing and transit safety: city survey

NDP demands province lift cap on funding at-risk teens trying to finish high school

Calgary pauses applications for office-to-residential conversions due to 'tremendous' demand
'The work they're doing is great'
The Beltline Business Improvement Area has been one of RadiCare Ventures' biggest supporters.
The collaboration began in June, according to the BIA's marketing and outreach co-ordinator, Katie Thies. Since mid-August, RadiCare's workers have been hired to clean up litter and remove graffiti around the Beltline.
There is also a service line businesses in the Beltline can call to contact RadiCare Ventures directly.
"The work they're doing is great," Thies said. "They're just so happy for this opportunity."
Article content
The BIA's contract with RadiCare Ventures runs until next March. Due to the positive feedback, Thies said she expects that relationship to continue.
She added she has also referred the company to her peers.
"We all kind of face the same things — there's litter, crime, graffiti — so I think it's something a lot of BIAs could benefit from," she said.
Low-barrier employment helping to open doors
Jamie Hunka, the employment manager for the Mustard Seed, called RadiCare Ventures "a step toward sustainable employment" for Calgary's chronically unemployed population.
He said his organization has referred six or seven clients to the new enterprise, with plans to send more when RadiCare Ventures has the capacity.
"RadiCare doesn't just give people a second chance, they give them a third or fourth chance," Hunka said.
"Basically, they're not holding past behaviour against anybody. They say 'If you want to work, come to us, we'll put you to work, build some job skills, and once you're done with us, you'll be able to get a more permanent job with someone else.' We love that."
Zheng said some of RadiCare Ventures' staff have already found full-time work elsewhere, while others are supplementing their involvement with his company by taking part in the Mustard Seed's own employment training program.
"We have a wait list right now for non-profit organizations lining up to provide us with general staff," he said. "There's tons of folks who want to work, but not enough spots for them."
link